At Envision Eyecare, we are pleased to offer a wide range of optometry services for our community! Our experienced optometrists can provide you with thorough eye evaluations, determine if you need corrective lenses and your exact prescription strength, fit you with the appropriate specialty eyewear, and help you pick out the most flattering pair of glasses for your face shape and skin tone.
Our new patient appointments always begin with a comprehensive eye exam. If you are unsure of your family's eye health history, it's helpful to research beforehand, so we can better evaluate your own eye health. If you have never had a comprehensive exam, don't worry! All the tests and exercises are simple and painless.
Took my son(7)there for his first ever visit today. We saw Goga and Melissa. Dr Goga was awesome as always. Melissa was the one who did all the initial checks and tests, she was absolutely amazing, my son wants to go back for more pictures, she treated him like a person. Answered all his questions. Had him laughing and smiling the whole time. it was a great visit.
Stephen
LASIK Consultations
We offer FREE LASIK CONSULTATIONS to help determine if you're a good candidate for laser eye surgery (LASIK, Custom LASIK, 3D Mapping and Bladeless LASIK).
Please call our office to schedule this appointment.
Learn more about LASIK in this short video.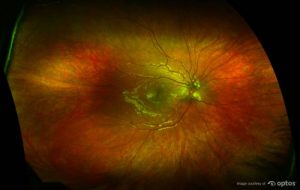 Optomap
The emerging standard for eye health
Bringing the most advanced technology to our patients, we recommend optomap® ultra-wide digital retinal imaging as part of your comprehensive eye exam today.
The optomap® ultra-wide digital retinal imaging system helps you and your optometrist make informed decisions about your eye health and overall well-being. Combining your optometrist's expertise and this new advanced technology, optomap brings your eye exam to life.
How is the retina typically examined?
Examining the retina is challenging. An optometrist looks through your pupil to examine a layer of tissue that covers the back and inside walls of your eye. Traditional viewing methods can be effective, but difficult to perform. They are also carried out manually without any digital record.
How does the optomap help?
The optomap ultra-wide digital retinal imaging system captures more than 80% of your retina in one panoramic image. Traditional methods typically reveal only 10-12% of your retina at one time.
The unique optomap ultra-wide view enhances your optometrist's ability to detect even the earliest sign of disease that presents on your retina. Seeing most of the retina at once allows your optometrist more time to review your images and educate you about your eye health.
Do all optometrists have an optomap ultra-wide digital retinal imaging system?
Not yet. But optomap is an emerging standard for eye health and millions of people worldwide have benefited from its use in their eye exams. Envision Eyecare is proud to offer this breakthrough technology to our patients.
How often should I have an optomap?
Your optometrist will advise based on your individual circumstances but it is generally recommended that you have an optomap every time you have an eye exam. This will ensure you have a digital record of your retinal health on file which can be compared for changes over time.
Should my children have an optomap too?
Many vision problems begin at an early age, so it's important for children to receive proper eye care from the time they are infants.
Will I need to be dilated, does it hurt?
The procedure takes only seconds to perform, is not painful, and typically does not require dilation. However, for care reasons, dilation may still be required.
At Envision Eyecare we use the Optos optomap system as part of our comprehensive examination process and our dedication to providing patients the best available eye health care.
Optical Coherence Tomography
Optical coherence tomography (OCT) is an established medical imaging technique that uses light to capture three-dimensional images of the retinal structures.
Envision Eyecare offers this advanced technology to help with the diagnosis of several different types of retinal disorders.