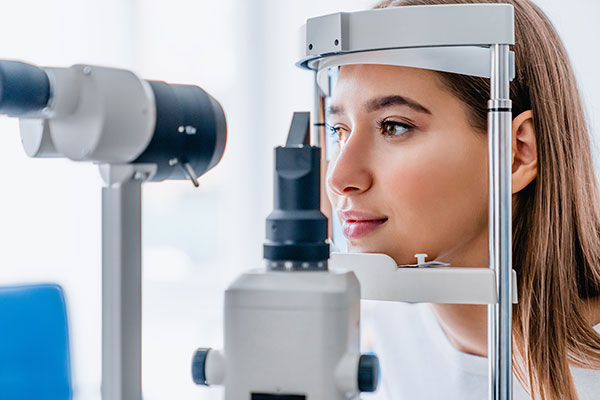 Why do so many people skip their annual eye exam? We believe it's because they don't know what to expect. For this reason, we feel it's important to outline the process so you can feel comfortable knowing there's nothing to worry about.
Upon your arrival, our receptionist will welcome you as a member of our practice. We will ask you to complete a few forms. If you prefer to complete them in advance in the comfort of your home, the forms may be found in the Patient Information Center. This paperwork provides us with your health history and other information related to providing you with the best vision solutions.
Below, we've also included a list of the most commonly asked questions about coming in for an eye exam.
What do I need to bring to my eye exam?
Please bring with you any and all current prescription eyewear you use. Eyeglasses, sunglasses, contact lenses… knowing what you're using now helps us to better determine how we can help you going forward.
Also bring any health insurance and/or vision plan cards with you. Depending on the purpose or diagnosis of your exam, we are able to bill both types of coverage. If there is a situation with multiple coverage (say a family where both parents have coverage), bring everything. Our billing staff can help maximize your benefits.
Finally, bring a list of any prescription and/or over-the-counter medications you are currently taking. This includes vitamins and eye drops. Some medications can have effects in the eyes that need to be monitored regularly.
What can I expect from the overall exam?
In addition to determining your eyeglass and/or contact lens prescription our doctors will also do a thorough examination of your eye health. The Doctors at Envision will carefully check for any indicators of possible eye disorders such as cataracts, retinal problems or glaucoma.
Why does the doctor ask me, "Which is better, one or two?"
We will ask these questions during the portion of the examination when your prescription is established. Your doctor will ask you to compare a series of lenses to determine which is clearer for you. As the differences become less noticeable, we will be closer to finalizing your prescription. For this reason, if you're having a hard time choosing between the options, it's a good thing!
What is the test with the puff of air for?
The puff of air measures the fluid pressure in your eyes. There are two other accurate measuring devices that can be used to measure eye pressure. The newest instrument is called the iCare Tonometer, the other is Goldman Tonometry. This is an important test, as high pressure may be an indicator of glaucoma.
Why am I asked to follow a light with my eyes?
This test is used to determine how your pupils and eye muscles react, and is important in assessing neurological function.
Is it necessary for the doctor to dilate my pupils during the exam?
Pupil dilation is not always necessary. This painless process is like opening a door so the doctor can fully examine the retina. Dilation can also help detect diseases like diabetes, high blood pressure and macular degeneration.